* Today's Tasks *
Solving the issue of PowerPoint being forced to close when Windows goes to sleep.
---
Known Issues
As described in the article "PowerPoint data loss when Windows goes to sleep" published on May 14, 2023.
We have encountered a problem with Microsoft PowerPoint being forced to close when Windows goes to sleep.
---
Reinstall McAfee
What is wrong?
There was an article in the past about how uninstalling McAfee fixed the problem.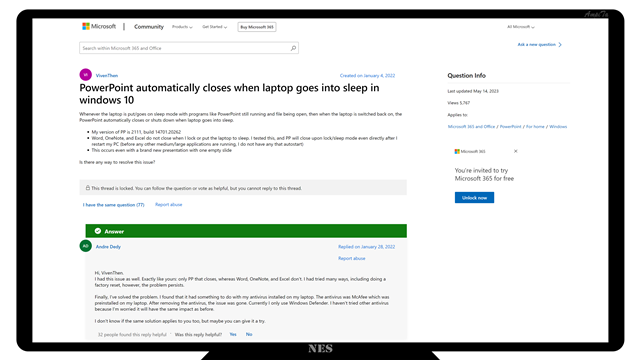 Microsoft Community
PowerPoint automatically closes when laptop goes into sleep in windows 10
The conditions are different from that article, but I uninstalled McAfee.
As a result, it was successful.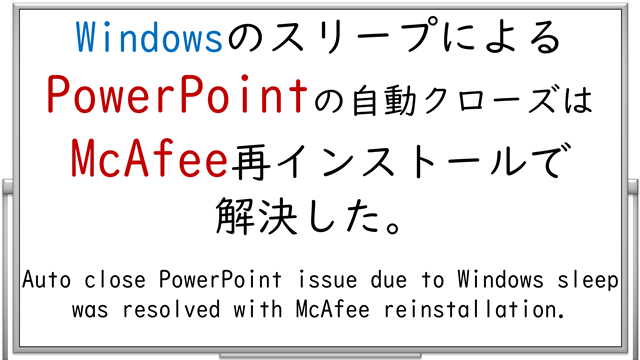 ---
Uninstall and reinstall McAfee
The recovery process I performed was to uninstall and reinstall McAfee.
Simply uninstalling McAfee will eliminate the forced close phenomenon in PowerPoint.
However, this method leaves us without anti-virus software.
Therefore, we reinstalled McAfee.
---
PC Environment
The author's computer environment is as follows
PowerPoint
Microsoft PowerPoint 2019 (64bit)
Version 2304
Build 16.0.16327.20200
Windows
Windows 11 HOME
Version 22H2
OS build 22621.1702
McAfee
McAfee Livesafe
Version 16.0
---
Conclusion
The PowerPoint problem was noticed as an anomaly around the beginning of this month.
It took us about a month to get to the root cause of the problem.
I lost my PowerPoint data many times while the issue was unresolved.
However, it appears that we will not have to experience that stress again.
There are not many articles about this experience on the internet search, so it may be a rare experience, but if anyone else has the same issue, I would be happy to contribute to a solution.
Thank you for reading to the end.